friEdOnline Individual Annual Membership
Marketing for online courses is for new and upcoming course creators who are ready to take their marketing to the next level and get results.
Benefits of this subscription plan
Elevate your career
Whether you want to boost your career within the company you are working or grow at your own business by applying the latest strategies, this is the way.
Expert instructors
Our instructors do a great job of communicating and making it a more intimate arrangement. They are supportive and responsible in returning emails.
Satisfaction guaranteed
Studying with us will help you learn how to create, capture and deliver value in a digital world. You'll leave with smart strategies to optimize your performance and satisfaction.
Material you'll love
Video interactions, note-taking, interactive ebooks, self-assessment, certificates, SCORM and much more.
Set and achieve goals
Receive certificates by attending challenging courses. Our students' success is our best asset in showing the quality of our training.
Flexible payment options
Lots of payment options! Payment gateways usually charge fees, so check out the pricing of the payment gateway of your choice.
friEdOnline Individual Annual Membership
Our friEdOnline Membership for individuals contains hands-on, self-paced courses on a variety of relevant topics—such as cyber safety, classroom management fundamentals, differentiation, Gifted & Talented, and skill building for Google and Microsoft tools. Our wide range of Learning Bundles address the needs of today's educators while making learning engaging, approachable, accessible and relevant. Each interactive learning experience is research-based and created by expert educators so learners can confidently apply knowledge immediately.
\Learnworlds\Codeneurons\Pages\ZoneRenderers\CourseCards
friEdOnline Membership

for Individuals
self-paced | inspirational | on-demand | relevant
Grow your own skills with convenient, engaging, meaningful Professional Development with our annual friEdOnline Membership. With self-paced, asynchronous courses and live learning opportunities covering a wide variety of relevant topics, you'll take your teaching to a whole new level.
If you are ready for life-changing PD, then our friEdOnline membership is precisely what you need!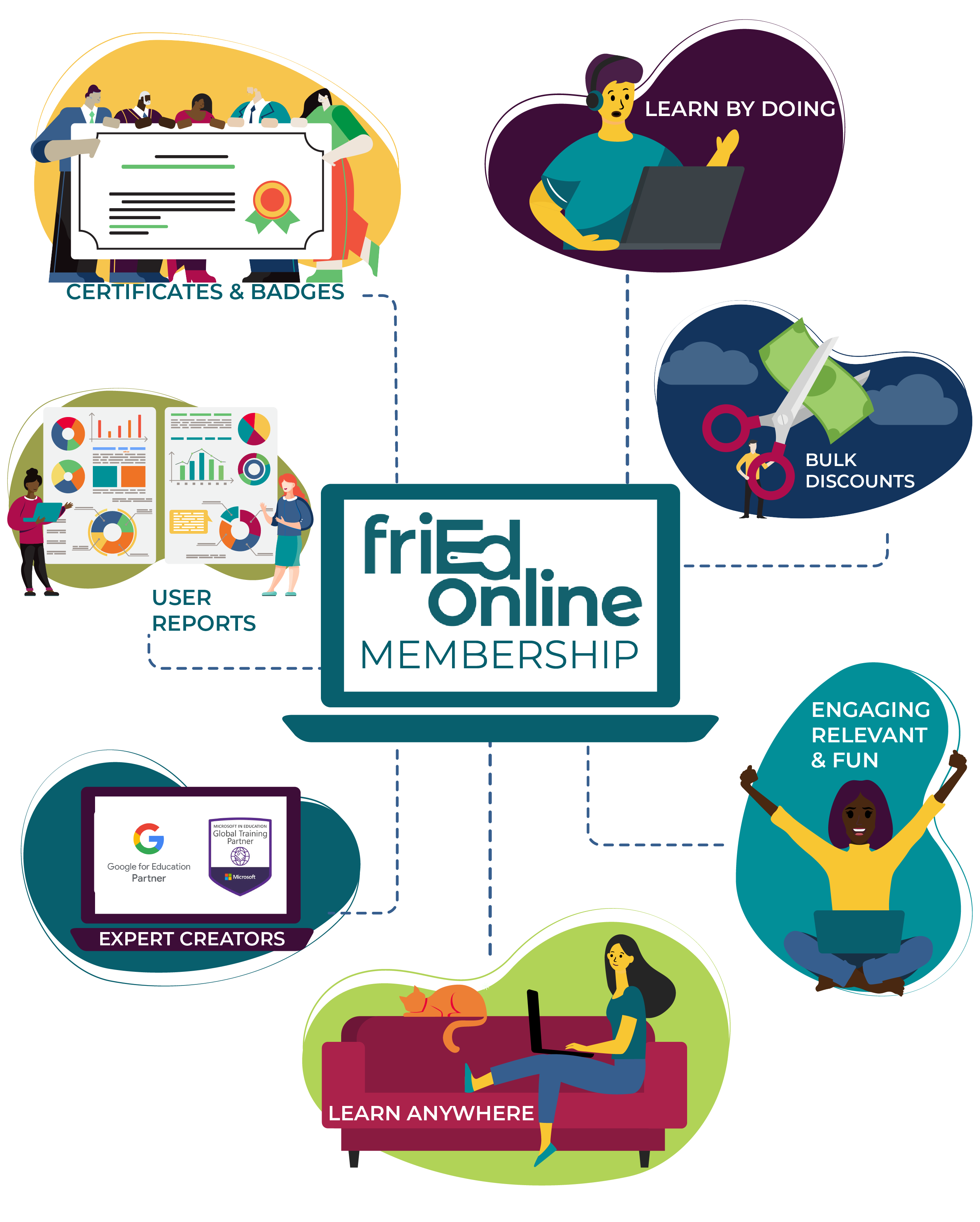 Every membership includes:
Learn by doing in our engaging, hands-on PD courses
Downloadable certificates and
badges
Tools and templates to immediately use in class
Easy-to-follow suggested learning bundles and paths
A custom course note-taking tool for accessibility and instructional coaching support
Live learning opportunities on the latest topics in EdTech with our friEd Learning Guides
Courses ranging from
1 to 12 hours in length with CEU/CPE professional development credit
A wide variety of PD courses to meet you where YOU are in your teaching journey
FriEdOnline Annual Membership
$40 monthly $20 monthly for a limited time!
$300 annually $150 annually for a limited time!

Immediate access to new course releases

Exclusive member-only courses

friEdFive Learning Series which includes monthly live webinars
Google Academy Add-On for
Annual Members
Only $50 for annual members!

Would you like to elevate your career? Become a certified
Google Level 1
and
Google Level 2
Educator with the help of our Google Academies.
In addition to our catalog of PD courses, with our annual membership you can add 1-year access to our popular Level 1 and 2 Google Academies for only $50! AND this includes the cost of the exam vouchers!
Course topics include:

✓ Yearly Gifted & Talented training maintenance
✓ Classroom management fundamentals for ALL educators

✓ Cyber safety/security for ALL educators
✓ Skill building courses for Google, Microsoft, Schoology, etc.
Frequently Asked Questions
How long will I have access to my PD courses?

You will have one month or one year from the date of purchase based on the plan you select.
How long will I have to take my Google Certification exams if I purchase the Academy add-on?
You will have access to the friEdOnline academies for a year. Once you earn your course completion certificate, you will need to complete the exam by the day on the voucher which will be from 1-6 months. You will continue to have access to our academies for the full year.
What are the 3-course learning bundles/paths?

We know your time is valuable and online learning can sometimes be overwhelming. But don't worry! We've thoughtfully curated 3-course learning bundles based on what YOU want to learn.
What is the "friEdFive: A Bite-Sized Online Learning Series" and how do I get it?
"friEdFive" is a 5-course Learning Series focused on the hottest topics in Ed Tech. The bite-sized 1-hour asynchronous courses are released monthly, making learning easily digestible and meaningful for all learners. Along with the online course, our friEd Learning Guides will host LIVE VIRTUAL webinars on the current series topic. Can't make the live event? Don't worry! Recordings will be available within this course. The only way to access the full five course series as they're released is to subscribe to our friEdOnline membership.
Learn more about the current learning series
What if I don't finish the courses before my membership ends?
Don't worry! Their progress is saved and will be there when the membership is renewed.
FriEdTech has become my new favorite way to learn more about incorporating technology into my day with my students. We're very much aware that technology is a major factor in our students' lives so finding ways to bring it into learning and make it engaging is always a plus. This course was fun, interactive and extremely informative. I enjoyed every second of it!
Alex (Alexandria) Keys
LAMAR COUNTY SCHOOL DISTRICT, MS
As the world changes, you have created a comprehensive hands-on experience for teachers that allows them multiple paths to achieve greatness!

Thanks!
Jose Colon
GARLAND INDEPENDENT SCHOOL DISTRICT, TX
Initially, I was intimidated by the thought of completing challenges and being assessed. However, the step-by-step instructions were really comprehensive. I was able to complete the challenges with very little frustration. I learned so much from this experience.
Erika Prelow
DALLAS INDEPENDENT SCHOOL DISTRICT, TX
Learn why everything is better friEd!
DISCLAIMER: You're life is about to change and career will take off once you've been friEd!