Boost Student Voice with this Simple Trick!

5 Minutes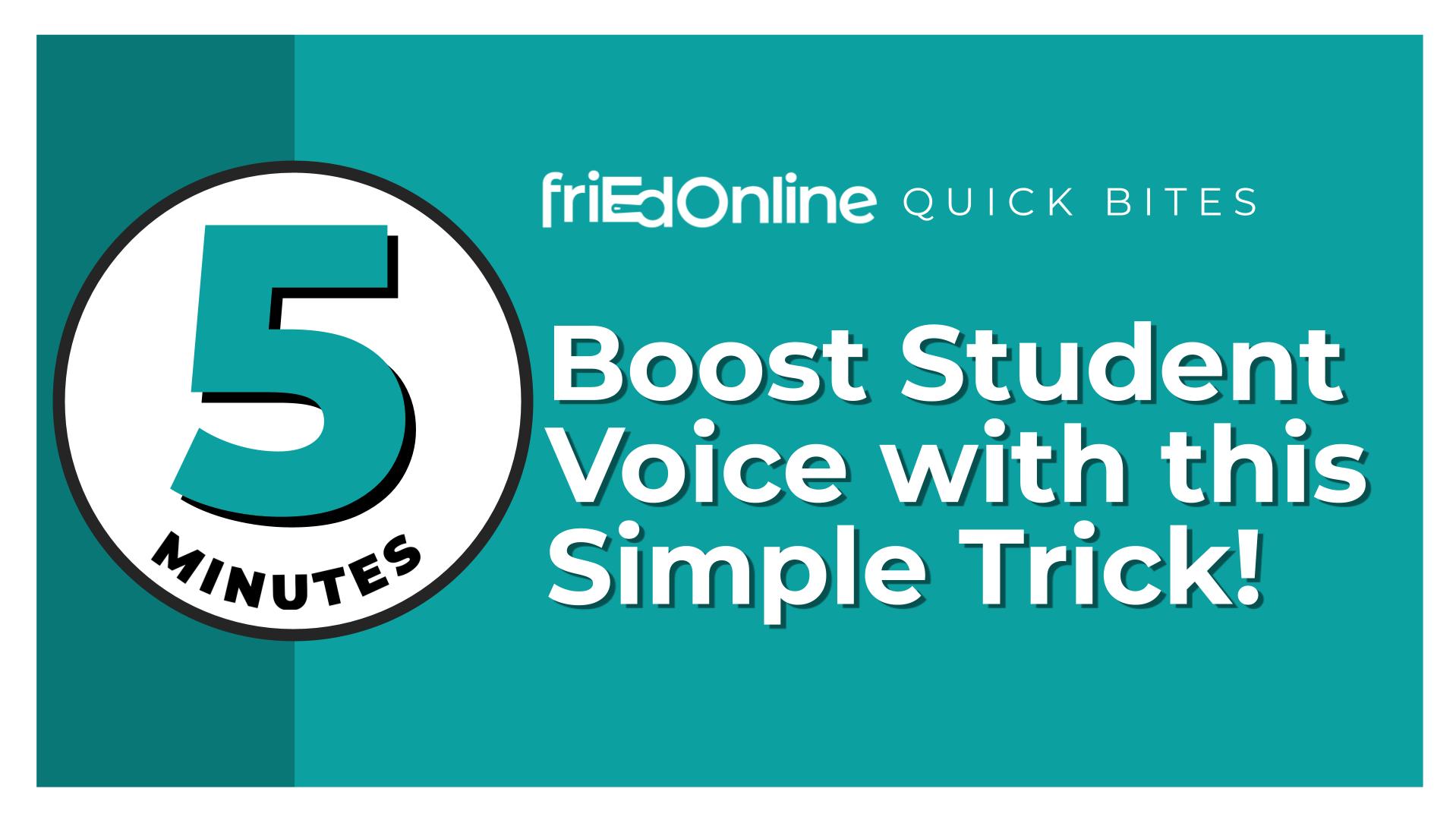 100% Online & Flexible
Start as soon as you enroll and learn at your own pace.
Lauren Heil
Lauren's career actually started in graphic design and art direction. When she found herself craving a more fulfilling path, she started exploring the world of education and fell in love. As it turns out, great design and great teaching go hand in hand! This became her mission in her classroom as a Google Innovator, and it quickly grew to her district and other schools within the US when we all quickly shifted to distance learning. She is such an asset to the friEdOnline team as a Learning Experience Designer creating useful, engaging asynchronous learning opportunities. Lauren lives with her husband, daughter and her sweet dog in beautiful Colorado!
Lauren is a Google Level 1 & Level 2 Certified Educator, Google Certified Innovator, and a Adobe Certified Educator.
I am so thankful I found friEdOnline courses because I hate going to LIVE PD sessions.
Wendy
Friedonline courses are easy to follow and are very interesting. I have learned alot taking these courses.
Cynthia
I love the FriEd online courses. I can work at my own pace and each section gives you practice on presented skills.
Angela
I have taken several of the courses that are offered and have learned so many great strategies! I have already spread the word to several of my colleagues!
Karen
I love taking these courses. I can pause them when I need to, go back over information if I missed something, and overall they are well put together. This is superior to going to a training off-site where it feels like you're drinking from a fire hose and can't remember anything when you leave.
Corey
I have really enjoyed our school district using you guys! Yall have been teachers and know what teachers are needing and looking for in resources. Can not wait for the next opportunity to learn more!!!
Tim
Start immediately and work at your own pace.
Enroll independently or simplify your professional development with our annual friEdOnline membership. Our memberships can stand alone or supplement your existing PD to maximize learning on a larger scale.
Interested in bulk enrollment for your school, district, or organization?
We provide discounts on our courses and friEdOnline memberships for organizations that buy in bulk. If you're interested in purchasing our products for your staff, please tell us how we can assist you. We accept payment via mailed checks, ACH, or card payments for purchase orders.
Can I earn professional development credits (example: CPE or CEU) for completing friEdOnline courses? How many credit hours is my course worth?
Credit is offered for certain courses and is based on the time it takes to complete the course activities. You must complete the course in its entirety to earn credit. The amount of possible credits to be earned from a course is located on the course card. Check with your school district to determine if our courses will count for credit in your district.
What can I expect from a friEdOnline course?
Like all friEdTech learning experiences, our goal is to provide engaging and practical learning for all. We strive to make sure every activity is purposeful, intentional, and easily applicable; the time you spend learning won't just be for an audience of one! Each course includes clear learning goals, interactive components, and checkpoints for understanding. After the course, you'll have the opportunity to evaluate your experience and share any additional feedback. We love hearing from you!
What are the technical requirements for taking a course?
BROWSER-

We suggest viewing your course with the latest version of Google Chrome or Microsoft Edge. Our courses have several interactive elements which are best experienced in Chrome and Edge.
VIDEOS- Course videos are in friEdOnline or YouTube. And you can always watch them within the course!
DEVICE- The courses will work on all devices, but your best experience will be on a larger screen. If you're choosing between a phone or a monitor - go with the monitor!
I don't have a friEdOnline account. How do I create one?
Go to friedonline.com and click the "Enroll Now" button. A pop up page will appear and with two joining options.
Join through a site with which you already have an account (Facebook, LinkedIn, Google). This is also referred to as a "single sign-on," or SSO.

Join by creating an account. Enter the required information and create a password. Then, click "Enroll in friEdOnline" and you're in!
I have a friEdOnline account but can't log in.
If you created an account by adding your information and creating a password (option #2), you can use the "Forgot your password?" function on the Login/Sign up page to reset your password.

If you used the SSO option (Google button and Google sign-in) to create your friEdOnline account, your login information is not stored in friEdOnline and you will NOT be able to use the "Forgot your password?" function. You will need to try logging in with the Google button.
If you have tried both options, you can email us at
[email protected]
.
I need to change my email address or other profile information in friEdOnline.
Log into friEdOnline using the email address initially used when setting up the account.
Note: if you're changing your email due to the email account being inactive, you can still use the email to log in. However, you'll need to provide an updated email address in order to receive important course links and completion certificates.
2. Click the "edit" button under your name (located in the top center).
3. Change the email address to the desired one and click SAVE.
4. Update any other profile information by using the menu on the left.
Don't forget to SAVE any edits!
My course was purchased by my district. How do I enroll?
1. Create an account using your school email address.
2. Make sure you're on the correct course page and use the link in the provided directions. The provided link will automatically apply the promo code.
3. Make sure your total owed is $0.
4. If you're enrolling in a district-purchased course, you will NOT need to enter any personal payment information. If Paypal opens for any reason, STOP and return to friEdOnline.
I'm getting an error message for a course my district purchased.
Uh oh! Refer to the directions in the original course email. Make sure to use the course link sent by your district in order to correctly access the course. If you're still having trouble, contact the district employee that originally sent enrollment instructions. You can also email us at [email protected].
How long will I have access to my course?
You'll have course access for a set period of time from the minute you sign up. In general, our courses are available 12 months from enrollment. However, there are times a district will purchase a course for a shorter period of time (ex: two months instead of 12). When enrolling in your course, pay attention to the time span included in the enrollment email receipt. You'll find the start and end day of course availability.
I'm having trouble loading elements of my course.
Restart your computer. (Simple, we know. But this little step can be an overlooked quick-fix!)

If you're using your school-managed G Suite account, contact your district technology staff to ensure no content/ad/pop-up blockers have been installed by your district.

Make sure Chrome is updated. If you're using another browser, check for updates.

Try another browser.

Check your internet connection and strengthen it if possible.

Try a different device (remember, we suggest monitors over smartphones!).
Will there be someone available to help me?
We strive to make your learning experience flexible and self-paced. Our goal is for users to confidently and independently work through all course material. With that said, you're not alone! Submit a help ticket and we'll get back to you. You also have course classmates for assistance, so we suggest making a social post/discussion post of questions within your course.

If you get stuck, you can email us at [email protected].
We'll do our best to respond within 24 hours, Monday through Friday 8 a.m.- 5 p.m. CST.
How do I find my course completion certificate?
You can easily find your certificates by going to your
friEdOnline Profile
. Here, you'll find a list of achievements, in-progress courses, and completed courses. Click the "download PDF" icon next to the corresponding course
achievement
to download the course certificate.
What's the difference between a friEdTechnology FOLĒ and a friEdOnline course?
Great question! Our friEdOnline courses are:

on-demand (completed at your own pace...we love PD in PJs!)

interactive (you'll be completing engaging tasks as you move through the course)

comprehensive (a full range of topic info and approaches are provided)

asynchronous (not live) learning experiences that you complete when and where you want. You will receive 1-12 hours credit for completing the courses.
Our Facilitated Online Learning Experiences (FOLĒ) combine digital, synchronous webinars, guided assignments via a FriEdOnline FOLE or Google Classroom and includes templates/assignments for extended learning. During a FOLĒ, you will attend live sessions with real, live PD providers who will walk you through the learning materials, more like traditional "live" PD (except not boring and horrible).
I'm in a Google Level 1 or 2 Academy and haven't received my voucher code.
complete each lesson in this course (look at the navigation menu and check to make sure each one has a checkmark by it),
pass the course final assessment with at least 80%, and
claim your course completion certificate,
you will receive an email from [email protected] that contains your individual voucher code.


This email will be sent within an hour of completion of this course.
If you don't receive the email please check your junk mail. If you have double checked each step, and still don't get your code, please email us at
[email protected]
.
I'm enrolled in the Google Level 1 or 2 Academy course and am having trouble registering for my official Google certification exam.

Follow the steps in
this document
. Remember, if you are in our L1 or L2 Academies you will
be emailed
a free voucher code upon
downloading
your course completion certificate.